Of course I always knew the time would come when we would be here. When it would be over, and I couldn't wait. Except now that it is. It's so bittersweet.
Animal stopped nursing completely this week. He's been self weaning for a couple of months now. Only nursing before bed. We have this routine, we turn on his little turtle that puts stars on the ceiling, then we turn on his gentle giraffe (womb sounds) finally I pull out our boppy and we sit in our special chair across from his crib. When he's done nursing I lay him down and tuck him in before walking out.
A few days before Mother's day after turning on his stars and sounds, I pulled out the boppy and he waved goodbye to me very sweetly. It surprised me, but I went with it. Half expecting him to reach out to me crying when he realized I was going to just lay him down and walk out. He smiled at me angelically as I put him down and tucked him in. I said, "Good night, I love you". He babbled softly and pulled his blanket up to his chin. Then I walked out, and he went to sleep. I teared up. It was over. I didn't have a baby anymore.
Of course he's been a toddler for the better part of a year. But at least once a day, he was still my baby. And of course he always will be, except he isn't.
I always knew I was going to breastfeed, but I had never expected to nurse past his first birthday. Once we read all the material on breastfeeding, the hubby and I just agreed that I would nurse him until he was done. Or he turned two. I didn't want to nurse a preschooler. Then I met all these women that are crunchy granola moms
not crunchy granola lite, like me
that I kinda admire. I'm such a hippie at heart. It just seemed less and less strange, and more and more natural that we would self wean.
Then he shocked me. He's been self weaning for months, and it's just done. He just grew up. It seemed so natural and pretty much seamless how it just ended.
Don't get me wrong, I'm glad to have my body back. It's great to have the extra time and that the hubby can put the baby to bed without me any night now. I'm especially excited to NOT have to look at the clock to decide if I can have a glass of wine.
It's bittersweet.
Yadda, it kind of sucks to be done with the baby days.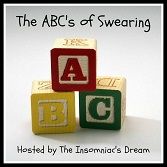 This is post is brought to
you by the letter 'Y'
Listen Yuckbuddies, yadda is like bleep for the bad word. C'mon it's the letter Y, there is little to choose from as far as "bad" words go.