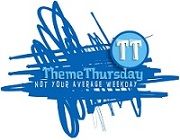 Click Here to read more or join in!
Zippity-Do-Da-Motherfuckers! I made it. I actually posted for every letter. I basically wrote everyday. It was a hectic month. I've had a lot of shit on my mind and dark clouds over my head, writing has really helped in a way that only running used to. Yay, for free therapy!

This week's topic is: What's bugging you lately?

What's bugging me, is that I've run into a road block. It's my drinking. I'm trying to lose weight and drinking is not conducive to this quest. Unfortunately not drinking means...(dramatic pause)... No drinking, and that just sucks.

It bothers me that I'm an alcoholic.

Not in a lose my job, family, home, dignity kind of way.

Not in a have to do it, to make it through a day kind of way.

I just like to, and I do. Often. It's just every time I shouldn't, because it's empty calories, or it's poison for the body I'm training, or I was pregnant and then pumping and nursing. I have to face the fact that I hate not being able to drink when I want to. That my friends makes me a wino.

And that really bothers me.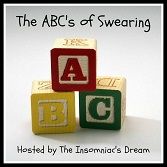 This post is brought to you
by the letter 'Z'