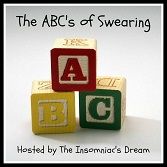 Today's post is brought to you
by the letter 'C'
Some of you may know that I am bilingual. Spanish is my first language. I am still fluent and I would say that I am very comfortable talking to most people in either language. But when something happens and expletives are the only way I want to express myself, it is always in English.
I'm not comfortable cursing in Spanish, and I never have been.
I never really tried it growing up, and it just feels unnatural.
There are so many great words too. My favorite expression I think is Chinga tu Madre, it's basically Motherfucker. Literally translated though it's Fuck your mother. I have never found a reason to use it. The phrase has never really crossed my lips in anger or in jest.
But I have sung it.