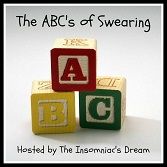 This post is brought to you by
the letter 'I'
Today, I want to talk (briefly, very briefly) about a set of words that aren't technically bad words, but when you hear them, you know they are.
Immigrant.
Illegal alien.
Now, of course not every one that says them, says them in a slimy way. They don't always sound like a racial slur, and in fact neither is.
But as a Mexican woman in California, both are words of much contention.
I'm gonna share a TRUE story from my childhood.
In third grade, one day we had a substitute teacher. Our school day started with the class standing up and reciting the pledge of allegiance (like most children's day in this country). When our class stood up, the substitute announced to me and to the class that I could take my seat. I didn't need to recite the pledge of allegiance because I was not an American, I was just an immigrant. So I didn't need to join in. I was a little kid, I was embarrassed, and confused, and I didn't really know what he was talking about. It felt wrong, but I thought I had done something wrong. It was a shitty moment. It's still a crappy memory.
Thanks, racist idiot.