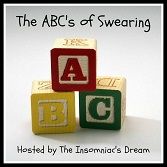 This post was brought to you
by the letter 'K'
I'm not a big fan of ABC.
At my house it rates under CBS, which I consider the Senior station. CBS has The Mentalist, which I enjoy even if the hubby can tell who the murder is 10 minutes into every episode. They also have football, even if it is the most boring commentators ever. I don't know how they manage to do it, but I take a nap every second quarter when the game's on CBS. They also have shows (I don't watch, but are popular) like CSI, and all the spin offs and Two and Half Men.
Back to lame ass ABC. I used to love TGIF as a kid, and 20/20 is still great. Recently they seem to have resurrected themselves with shows like Modern Family, Surbergatory, the B in Apartment 23 and Happy Endings. That show is ridiculously funny. All the characters are hilarious. The hubby and I look forward to it every week. They have tried and tried to kill it, even moving it to the infamous Friday night spot, where good shows go to die. Well despite various efforts from the likes of Jenn at
SomethingClever2point0
, and the #savehappyendings campaign on Twitter those KoalaFuckers at ABC have pulled the plug on this great show.
I hubby broke the news to me today, Mother's day, and I will be forced to drink the rest of Sunday night away in order to subdue the hole that has been left in my soul. Fucking knicker lickers!