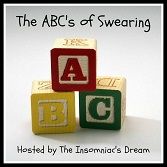 This post is brought to you by the
letter 'G'
My favorite swear word is, Goddammit.
Goddammit!

Have you ever heard a better swear? I know that a lot of people believe that is taking the Lord's name in vain, but I don't see it that way.
I am a Christian. I'm not ashamed to say it. I LOVE God. I thank Him for my life, my family, my blessings and my heartaches alike (admittedly I'm more enthusiastic about my blessings). I sing his praises (literally, mediocre voice and all) and I hope that when I am kind, forgiving, generous, selfless or understanding, that someone who feels lost and alone can think to themselves, "Is that, what the kind of person that believes in Christ is like? I'm like that, or I want to be like that."

When shit goes down, sometimes all I can think or say, is, "Goddammit!"

Goddammit, why am I envious? Why am I an asshole? Why I don't I feel like I'm good enough? Why do I have to struggle so much, when some people don't seem to struggle at all? Why does bad shit have to happen to good people? To defenseless creatures? To innocent children? Why is the world so fucked up? Why are there evil/greedy/sadistic/hateful/narcissistic/shitty people in the world/in charge of shit/around children? Why can't we all just get along? Why? Why? Why?

I don't know.

Man will never know the mind of God. Or so I've read.

But that doesn't mean I can't question. That doesn't mean I can't be angry. That doesn't mean I have to follow blindly. The beauty of knowing God says me, is that I can.

God knows my heart. And therefore, I am free to speak my mind.