Remember back in the day when people were on MySpace?
I was one of those people. On your profile page there was an area where you could blog. Straight on your profile you could write post. I wrote one a week, sometimes more, sometimes less. I loved it. It was like literal graffiti etched into the interwebs. I wrote about my hatred of Ants, that one got a lot of comments. I wrote about things I did, less comments. I wrote about racism and friendship, a lot of comments. I loved writing so much that I created a profile for my cat and wrote from what I imagined was her perspective. She told about the hi jinx she got in, her observations about her people and about a pesky stray that her people decided to bring into her home. She was not pleased. She had lots of pet friends and they read her posts.
Then everyone I knew decided that they were too cool for MySpace and jumped ship. They all got Facebooks and started pressuring the hubby and I to get one too. We resisted. Facebook was lame and super boring. All the cool shit it had was already on MySpace, minus all the ass and bots. Guess where all the ass and bots are now? Any way why am I talking about a relic? Because this weeks Theme Thursday topic is BLOGGING, and my first taste of it came from MySpace.
With MySpace dead, I had no where to write and no one to write to.
Then I got pregnant. I spent a lot of time on the Internet researching things like vaginas tearing and women shitting themselves while in labor. I also spent a lot of time reading things from babycenter, including a blog. I found other bloggers by following that one. It was great because I don't know a lot of moms with young children. As a matter of fact IRL I only know one young family. They are great, but we don't spend that much time together and I really need mommy friends. I can't do the chat rooms the moms are so mean. I don't judge (ok sometimes when I deem someone to be a total asshat, I judge that person) how any one raises their kids and I expect the same courtesy. So when I found a couple of Funny/Mommy bloggers I was so excited. I started commenting and eventually when Jenn from
SomethingClever2.O
asked if any bloggers where up for a weekly writing challenge, I knew I was going to start writing again.
Blogging for me has not only been a chance to write (something I passionately love to do) but it has been a chance to make some amazing mommy/bloggy friends. It's not a group of stepford wives that all mommy alike, It's a community of women and men, writers and moms who think for themselves, are raising their families how they think best, in away that works for them. Who will laugh with you. Cry with you. Encourage you and maybe share a cocktail recipe with you.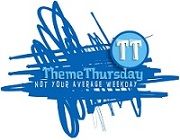 This post is part of a multi blogger collaboration to join in or read others take on today's topic just click the TT button :) enjoy