Top 5 things I love about winter...
5. Crisp weather. Not really cold, but definitely not warm. So the sun is shinning and you can be perfectly comfortable in a light sweater or hoodie. It's perfect weather for a long run, a brisk hike or a reflective stroll. When I get up in the winter and the weather man is talking about snow storms on the East coast or Colorado, and I look out my window and the sun is shining and our high is going to be 65 degrees, I think how absolutely wonderful it is to live in California.
4. Warm pajamas. Or just pajamas in general. I like to wear them. In the summer when it's hot I can't use them. I can't sleep if I'm hot. So they just sit in my drawer. Waiting for winter. I have lots of jammies and winter means I can snuggle in my favorite PJ's.
3. The playoffs and Superbowl Sunday! I love lazy football Sundays in the fall, but it's nothing compared to excitement of the winter playoffs. And as fun as it is to start drinking at 10 am, it's even more fun to still have some of the day leftover to do other things. And then to get down to the Final game, the delicious food, copious amounts of liquor, and funny commercials is just a phenomenal way to say goodbye to season.
2.
Christmas break
. I'm a teacher so I still get vacation time around Christmas, and you all know how much I love the
Holidays,
so you can imagine how thrilled I am to be away from the daily grind focusing my time on my family, relaxing and Animal!
1.
Long nights
. I'm pretty much an early to bed early to rise kind of girl. Nothing makes you feel like a senior citizen as fast as going to bed when the sun is still shinning. In the Summer this happens (well used to happen before Animal) all the time. It's a little embarrassing to fall asleep when you can still hear kids playing outside in their backyards. Also, I like to sleep in a little and in the summer when the sun is up at 5:30, so am I. So I prefer winter mornings when the sun comes up a 7 and I don't have to feel like such a weirdo for being up and chipper.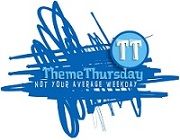 This post is part of Theme Thursday, a multi blogger collaboration. If you would like to read other thoughts on winter, or post your own. Click the TT button :)