I wasn't a fat kid, but once I hit puberty I started packing on the pounds. It was tough to be a fat girl. There was no such thing as torrid, and few places carried anything over a size 11, so I started buying men's jeans. I was lucky though. I was (am) pretty awesome. I was (am) outgoing, talkative, amusing, friendly, opinionated and nice. People liked me. I had friends, and boyfriends, and people didn't make fun of me (to my face or to my knowledge anyway). Even with all that, it was hard. I can't imagine what it would have been like if people had teased me. If I had been bullied. I would have been destroyed.
After high school, I started making changes. I cut out soda. I drank fat free milk. I ate less garbage. I started working out. Slowly, over the years, I got healthier. I educated myself and immersed myself in fitness books, magazines, and websites. I started running. Lots and lots of times I started running. Until one day miles and miles behind me, I was a runner.
It wasn't easy to make those changes, small and slow as I made them. My parents made fun of me when I switched to fat free milk. "Would you like a glass of milk, or are you going to have a cup of dirty water?" my mom would ask.
When I switched to cascade fresh non fat yogurt, with no artificial flavors or added sugar (except fruit) I gagged the first few times. My dad would say, "Why eat that if you don't like it? Food is one of the pleasures of life. You should enjoy it". I explained I would like it eventually; I just wasn't used to it yet. It was hard for them to understand. They weren't obese like me. Maybe they even took it as an insult that I would question the food they worked hard to provide and prepare. Food was one of the first things I bought for myself when I started working.
I don't want that for my kid. I don't want for him to struggle with weight like I did. So, for years before I even considered parenthood, I decided that I would do whatever it took to help any offspring I might have avoid that fate.
One of my reasons for breastfeeding was statistically breastfed children are less likely to be obese. I waited to introduce solids until six months, for the same reason. In fact, nearly all of the food choices I have made up to this point in my son's life are to help him be more likely to be healthy.
I joined weight watchers, because I know I have to be healthy in order to be a good role model, and because he is more likely to continue these habits if they are family habits. So even though I don't like to cook, I do. Even though I love to eat fast food, I don't. Even though I'm tiered and don't want to spend every weekend at a park when I could be watching TV, I will be. For the next oh, ten years or so, I'll be at the park playing with my son.
People are willing to admit that we have a problem in this country when it comes to our ever widening waistlines, but not so much that it's a serious problem within our families. That it's putting our children at risk. That it's putting our country at risk. It doesn't seem that many of us are willing to take responsibility over this problem and resolve to change it. If not in our country, in our home, at our own kitchen tables.
When I child is fat, It's not their fault. They can't do it alone; We have to help them. We have to be their (and our own) advocates. It wont be easy, but we can do it. Our children deserve to be healthy. It's our job to make that happen.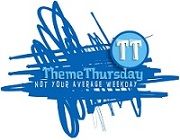 This post is part of a multi blog collaboration, to read about some other hot topics, or to add your own
rant
thoughts, just click the TT button.