This weeks topic is...
Funerals.
When I read that out loud Wednesday night as I realized that I needed to start thinking, and writing like a week ago, the Hubby offered that I could write about his mother's funeral. I thought that was very sweet of him to volunteer such a personal moment. I didn't feel like I could.
Instead I thought I would share this:
I plan on being cremated.
I would look smashing in this!
I would like my friends and family to get together, share stories, hopefully good ones and then for my hubby, son or immediate family to take those ashes and spread them somewhere scenic, preferably the ocean or a mountain side.
Who wouldn't want to spend eternity here?
Let's face it I'll be dead, and what the hubby does once I'm gone is anybody's guess. If he could, he might have me stuffed and have me placed sitting on our couch holding my cell phone as if I'm scrolling through Twitter. Most likely he would want to bury me and that freaks me the fuck out, but I'll be dead. So for once he wont get an argument from me.
So natural. Just like I would look spending eternity on my phone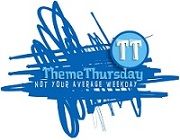 This post is part of a multi blogger collaboration, to read on or join in please click the TT button :)