Everyone love's a good road trip right? I know I do.
I love the the promise of adventure. I love the ride. The music. The snacks. The silly car games. The chance for long conversations. As a kid, we would drive all over California and even all the way to Santa Cruz de Las Flores (a small town in Jalisco, Mexico) in our station wagon.
The hubby and I take short and semi long road trips, living in the Bay Area means that there are lots of adventures just about an hour away.
Animal is not yet two. So far we haven't gone on too many road trips. We have taken him to visit his grandpa and great grandma. We have gone to the Aquarium, and recently the zoo. All just around an hour away.
I'm not looking forward to the possible carsickness or to having to find bathrooms (that don't make us vomit) randomly on our way somewhere.
I am however looking forward to making memories with him. To buying snacks we don't usually get (Cheetos, Slurpee's, candy bars). Playing him music we love, talking about whatever strikes our fancy, playing silly car games. Him anticipating adventure and even the unavoidable, "Are we there yet?"
Here are the top 10 road trips I can't wait to take with my little family:
10. San Francisco. There are so many things I want us to do. The California Academy of Science, Alcatraz, Fisherman's Wharf, The Exploratorium, Kid Robot on Haight and Ashbury.
9. Oakland. To watch the Oakland A's play before (fingers crossed) they move to San Jose.
8. Big Sur. The beach, the hike, the beauty.
7. San Diego. The incredible zoo, Sea World, and Lego land.
6. Los Angeles. The Museum of Natural History, Universal Studios, Disneyland, Magic Mountain and Knottsberry farm.
5. San Juan Bautista. I want to take him to the mission his school will take him too. I want us to tell him about what a mission did. Why it did those things and who that hurt. I also want to take him to watch a show at El Teatro Campesino, to watch a play of course, but also so that we can show him his dad's pictures on the historic walls and his involvement with this cultural landmark.
4. National parks. I want to go to so many. I want us to hike and camp in as many as possible.
3. Portland. Because of Portlandia...just kidding, because of travel channel and food network. There are a lot of places I want to eat at and visit and they happen to be in and around Portland.
2. Sacramento. Everyone should visit there state capitol.
1. The Grand Canyon. I've never been, and I can't wait to see it for the first time with my family.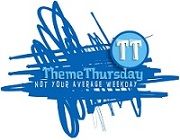 This post is part of a multi blogger collaboration, if you want to check out actual road trip stories (I'm totally guessing) or add your own crazy adventure to the mix, just click the TT button!