My favorite grade, was sixth grade and I'll tell you why.
It's because I got to skip it. I went from being a fifth grader at the end of the school year and then started seventh grade. It was absolutely awesome.
It happened for a couple of reasons.
First, I was doing very well in school. I loved school. I loved to learn. I loved to know the how and why of things and anyone that knows something about anything will tell you, there's always more to learn.
Second, I had been held back in first grade. Not because I was dumb, or failing. It was because when we first moved to the United States I was in kindergarten and the elementary school that I went to was bilingual. I was doing great, but then halfway through first grade we moved to a smaller, less ethnic city. My new school was not bilingual.
I was actually skating along with Satisfactory marks on my report card, remember those? Before letter grades? The thing was, I was barely reading at grade level, and I would switch between writing in English and Spanish in a sentence (example: I wanted a perro, pero my mom said no.) The teacher told my parents that it was up to them, but that repeating the year would allow my language skills to "catch up". My parents decided that was best and by the following school year I had caught up, and was in the advanced reading groups and such. I continued to excel in school and so when I reached fifth grade the school gave my parents the option of me rejoining my peers in the seventh grade.
So I did.
Sixth grade was also the worst year, and I'll tell you why.
First I got all the textbooks for every subject and a fat reading assignment along with suggested work to do. I love to learn, but I don't know how many 12 year olds you know that would spend their summer vacation reading/working through a whole school years worth of curriculum. I wasn't that kid. Sure I read, lots. Lots of Stephen King. So I missed a lot.
So, as you can imagine, there are things I just never learned. Like, how to stop writing run on sentences. I have a real hard time with fractions, and never really caught up in math. I'm still a mediocre math student. I missed science camp. Worst of all I ditched all my friends. For new friends. It didn't seem so bad then, but I really regret being such a dick. I just slowly cut these people out of my life. My old friends were kids that cared about grades, and were nice people. My new friends were nice too, they just didn't care about grades as much. I didn't start failing or anything I kept a B average. I just wonder if it was the right choice.
So there you have it. The best and the worst. In one neatly wrapped, never happened package.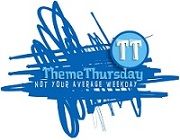 To read more awesome/terrible childhood memories
or to add your own just click the TT button!