There are lots of things I wish someone would invent, that just don't exist yet.
Like, cars that run on water.
Phones that aren't obsolete in a year (or a month after you drop a pretty penny for them) or better yet that their screens didn't crack after a four foot drop and that they were waterproof.
Toys that put themselves away.
Dishes that wash themselves.
Appliances that do it all (I mean all prep, cook, clean up), Especially a toilet and shower/tub that scrub themselves.
Clothes that hang themselves.
Cars that vacuum their carpets and seats.
Cheap air conditioning.
A free editing App so I wouldn't look so dumb. I'm not BTW, I just have shitty grammar.
Right now though, most of all I wish someone would invent calorie free liquor. If only Rum could be zero calories I would be the happiest drunk ever. I don't even need the rest of the spirit family, just Rum. It's the thing I want most right this minute as I type away. Whoever does it will be rich. Filthy fucking rich.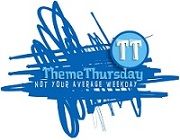 This post is part of a multi blogger collaboration. To read more of join in, just click the TT button!