This week we have a juicy topic. I've been looking forward to sinking my teeth into this one and punching it out.
"The Breakfast Club." Which character were you in high school?
If I was totally honest, I would say I'm a little bit of all these characters, least like the athlete in high school, except for peer pressure. I was sometimes a sucker. I smoked weed, I was a teachers pet and if I even put the slightest effort into a class I aced it. I was overweight, but popular enough that people didn't make fun of me. I had friends and boyfriends. But most definitely the character I was most like was
I wanted so badly do be different, and I did A LOT to not be like everyone else. Dressed different (like from second hand stores, vintage shops, hot topic, head shops and flea markets) I listened to alternative music, retro music, and read comic books. I put stickers on my face and watched power rangers. I was a hipster before hipsters existed.
I had a pretty awesome (read boring) home life. I was really lucky. We didn't have a lot of money but we lived in a cool house in a nice neighborhood. My parents were happily married, we were healthy, aside from teen angst I would say I was blessed.
So I was always looking for drama. I started smoking (cigarettes) so I could get addicted and have to quit. It would be SO hard. I would have something to talk about with my friends that had REAL shit happening. Yeah seems pretty much like Ally Sheedy's character, right?
I ate a lot of Mexican candy at school. Have you ever seen Mexican "candy"? Some is sweet sure, but a lot of it is sour and chili powder concoctions. Think Ally pouring out pixie dust into her captain crunch sandwich.
I liked to say weird random things. Provocative things. I liked to stir the pot.
I would say the only thing that set me apart from her character was that I wasn't a social outcast. I loved high school. It was good times, irresponsibility and childhood friends. I even remember worrying that those would be the best years of my life. Thankfully they weren't.
Also I didn't end up with the Emilio Estavez's preppy jock ass. Although the hubby did play football...
Instead I ended up with this guy
And I think that's a more fitting ending.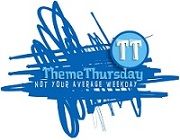 This post is part of a multi blogger collaboration. To read what characters other bloggers felt they were most like or even better to link your own answer, click the TT button.