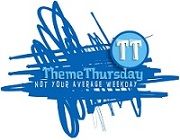 Today as we celebrate the 4th of July, we here at Theme Thursday take a break from our regular topics to give you a chance to read something you may have missed we think worthy of your time. We invite you to click the button and find other treasures or to link your own. ENJOY :)
Years ago, Nike came out with Nike+.
An amazing system that connected a chip in your shoe, to your music (iPod), to an online GPS linked community. I have never been a fan of Nike, because I disagreed strongly with their manufacturing practices and so never bought a shoe that they made. Like the consumerist hypocrite I am, I quickly turned a blind eye to what I didn't like because I wanted this so bad.
That Christmas, my hubby bought me a pair of Nike+ shoes, the Nike+ chip and an i Pod Nano (I and the hubby also dislike apple and at the time used our awesome Creative Zen mp3 players). He spent a lot to hook me up with some outstanding running gear that I was dying to own.
Then, he said this (I'm totally paraphrasing because as mentioned, I have a terrible memory), "I want to see your wanna-be-runner-ass on the track every morning, cuz I buy you new running shoes every year, because this is the year you're really gonna start running. And it never happens".
The hubby and I have known each other since our junior year in high school, so he has been privy to my desire to be a runner for a long time. This was always my new years resolution.
It was true. I always wanted to be a runner, but I always gave up. It was always something. The killer shin splints, my inability to breath, the fact that seniors were lapping me. I would about die every time I attempted to realize this goal. I literally thought my heart was going to explode in my chest. But him calling me a fucking wanna be, my ego could not take it.
I'm pretty competitive and I just cannot handle this sort of criticism, but what could I say? He was right. I was a wanna be. I always wanted to be, but I never put in the work. I always gave up.
Well not this time. This time I was going to be a runner or die trying.
Every other morning I got up. My brother would join me. We would run a mile. I turned up my Nano so loud that it drowned out my gasps for air. I told myself if I couldn't hear it, it wasn't happening. I would want to stop, but every time I wanted to stop short of that mile, I would say to myself, "Am I going to be a runner or a wanna be?".
Eventually, I was able to run that mile without being certain of my impending death. The Nike+ was an amazing motivator too. It added up my mileage, cheered me on and even congratulated me when I met a new goal.
One day I realized that we were running that mile in 12 minutes instead of 15+. I wasn't out of breath anymore. I came up with a plan we would run 15 minutes every time, my brother agreed. Then when I realized 15 was doable, I told my brother, "let's add 1 minute each week". He said OK.
Before I knew it, we were running two miles. Two miles in 22 minutes. TWO MILES. I would run and think, "who's a wanna be now?"
I'm grateful to my hubby, for always knowing just what to say, to chide me into giving it my all. And for always believing I can do it.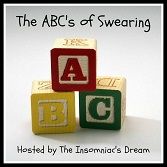 This post is brought to you
by the letter 'W'