I was running an errand at Safeway tonight and when I pulled into a parking spot, and saw the sticker pictured above.
It made me so angry. I snapped a photo and tweeted it with this question: How about, fuck you?
I didn't regret my sentiment. Only that I couldn't tweet everything I was thinking and feeling when I read said sticker. That someone might read my tweet and only think that I was being vulgar for vulgarities sake, but when see that bumper sticker that's what I read, a vulgar statement.
What I see is someone saying, "I am a Republican, and you're a lazy motherfucker!"
It makes me angry because my husband and I work so hard. Like, most people in this country. To imply that if I don't subscribe to your politics makes me a lazy ass is just asinine. My husband has been on his own since he was 17, except for financial aid a few semesters, he has never been on any public assistance including unemployment. I have been working since I was 15 and I have never used public assistance either, but I have paid into them, and I'm glad too. I think social programs are important safety nets that benefit our country as a whole.
So how dare you make a statement like that.
I am into politics, I watch political shows, read, listen to talk radio and even hold ballot nights to ensure family and friends are ready to vote. I would say I'm independent before picking a party. Even though I have my own very strong opinions, I would never put a bumper sticker on anything I own advertising such a judgemental blanket statement.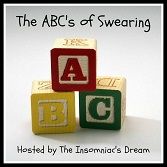 This post is brought to you by
the letter 'L'