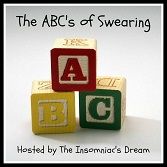 This post is brought to you
by the letter 'R'
Rested.
Some mornings I am, but WELL rested...
I think since having Animal, I have been well rested a handful of times. Sometimes (more often than I would like to admit) it's my fault.
He's been sleeping through the night for almost eleven months, and I stopped getting up to pump nine months ago. The thing is, if I want to have time to write. Time to catch up on all the trash and sitcoms I love to watch. Time to hang out with the hubby, just us. Time to get chores done, uninterrupted. I have to stay up past my bedtime. Before I became a mommy I would go to bed about 9, sometimes 8:30. Now I go to bed between 10-11.
If I want to have time to run. Time to eat breakfast. Time to have a tasty, HOT cup of coffee. Time to shower, time to pee without interruptions. Time to make and pack lunches. I have to get up by 6, 5 on my running days.
You know what, I don't even always care. Sure it means I have to drink a cup of coffee if I don't want to stumble through my day like a *retard, but being constantly sleep deprived (at this point, with newborn life still fresh in my mind) seems well worth it.
I can't afford to go to Starbucks everyday, but I also can't handle instant. The price is right, but the taste is less than ideal. I can do the Nescafe if I have some flavorful creamers. The problem with that is I just added like 200 calories, and 5 grams of fat. That is just not cool. NOT COOL.
So, I'm gonna share my secret to faking a well rested morning.
First, work out if possible. No joke, the least awesome part of my day is waking up to a fucking alarm clock. Often though, the best part of my day is my run, and the burst of energy it provides.
Second, come home and warm up 1 cup of fat free milk and 6 oz of water. While that's warming up, in a stainless steel tumbler add 1 package of Via, currently I'm rocking the blonde because it seems to pack less of a caffeine punch and so I can still get a good nights sleep. Add 1 pack of splenda or a tablespoon brown sugar. Lastly, poor hot milk/water into your travel mug. Seal and enjoy. The milk is a very important component to this beverage. It not only adds a richness that makes you feel like you're treating yourself, but for a mere 90 calories your adding 9 grams of protein, calcium and vitamin D.
The tumbler is key for us mommies for two reasons. First it enables you to finish your cup hot without the need to zap in microwave 10 times, until finally, defeated you throw half the cup down the sink so that you can get to those pesky dishes that have been waiting all morning to be washed. Second, you don't have to worry about a mischievous child, spilling, breaking, tasting, or worse burning themselves on a hot cup of Joe left unattended to handle some other pressing matter.
Lastly, use some Erase Paste by BeneFit.
Follow these tips and you will look well rested and perky. You're welcome.
*This post is part of ABC's of Swearing Challenge and I'm sorry if I offended anyone with the use of the word retard, but rimjob was the only other bad word I could think of, and I just couldn't think of a way to include rimjob into this post. Also, yesterday I used queerdo, which I was equally conflicted about. This challenge has truly challenged me, but has been a lot of fun and I hope you are enjoying as much as I am.