Facebook. That's this week 's topic. There are few social mainstream mediums that annoy me more than Facebook. I resisted getting one. Until it seemed (to me) that I should really have one for my blog if I hoped more people might click on something I wrote, and maybe even enjoy it and come back for more. A girl can dream, can't she?
So when I am asked to think about Facebook, I naturally think of MySpace. Yeah. I'm old, bitter and the mom of a toddler. I don't wear mom jeans, but I do live in the past.
Here's what I wrote a few months ago...
I loved MySpace once upon a time. I know, MySpace is
OFN
, old fucking news.
Then everybody got a Facebook page. Everybody. Even my parents. Everyone that is except the hubby and I. We abstained. Up until a few months ago, I didn't have a personal page. Nor did I want one.
I don't always do things everyone else does. If it all. I'll admit I'm a conformist in many ways. I get up everyday and go to work. I pay bills. I'm married. I have a kid. I drive a car. I recycle. I bring my own bags to the grocery store. I'm a consumer. Yawn. You get the picture. The thing is I want to do all those things. I don't want to be on Facebook. The only 2 awesome things about MySpace becoming obsolete was getting my time back and that it forced me to stop the over sharing. MySpace was a super fun time suck, and I didn't need a boring time suck.
Except now I do. I need to learn things and to promote things and I'm gonna need a fucking Pen name. So now I have them. A pen name and
a Facebook account
. It is just a boring MySpace. It reveals way to much about me and constantly "suggest" people to friend, things to "like" and asks me to tell you were I am. Annoying.
It makes me worry about when Animal grows up. Social media is a crazy beast that thankfully I didn't have to think about maneuvering until I was an adult. It's a whole different world for our children. I hope I can teach him wisely and that he doesn't hate me too much for all the policing I'll inflict, the limits I'll set. I think of Facebook now as a necessary evil (and okay it's also a little funner than thought), and a new parental responsibility in my future.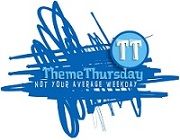 What do you think about Facebook?
This post is now part of a multi blogger collaboration, to join in or read more please click the TT button!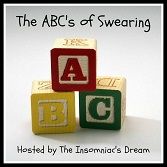 This post is brought to you
by the letter 'O'