There are lots of things I love, I'm gonna *try* to keep this brief...
I
Running
. Hiking. Beaches. Roller Coasters. Riding my bike with a friend. Climbing rocks.
Wine
.
Cocktails
. Being inebriated, often.
Writing
. Pizza My Heart (the best pizza chain). Seafood. Pancakes. Coffee.
Good Sex
. Shopping. Lazy, drunk, yummy food filled, Football Sundays. Having cash to spend at Whole Foods. Gift cards. Being barefoot. Walking with a friend. Spring. Warm sun shinny days. Children. Art Galleries. Theme Thursdays. Finding stenciled graffiti on the streets (preferably the sidewalk, when I'm with the hubby so I can take a picture of our feet next to it). Books. Reading. Plays. Walking around theaters. Downtown. Sushi. Buying clothes/shoes/toys/books for Animal. Watching him. Compliments.
Christmas
. Tamales. Traditions. Family time. God. Scrapbooking. Taking pictures. Documentaries. Seeing movies first, before I get any ones input. Movie popcorn.
Good movies
. Sad movies. True to life movies. Fun movies. Flowers. When the hubby makes me dinner. Calaveras. Being a
woman
. Toystores (even before kids). Nap time. Bedtime, Animals and mine. Waking up early, but well rested with the whole day ahead of me. Fucking
Weight Watchers
. Hugs from little children. Things kids say. How kids think. Breakfast. Desserts. Fruit. Veggies. A bargain. TV. Netflix. Thinking.
Depeche Mode
.
Laughing
. Lakes. Swimming. Fishing. My DVR. Pajamas.
My phone
. Twitter. My laptop. Apps.
Memories
. Reminiscing. Parties. The holiday season.
Breastfeeding
. Magazines. Cartoons. Socks. Costco deals. Ice cream.
I'm sure I could think of LOTS of other things I love, but in order to be brief, and genuine I wrote only the things I could think of in 10 minutes. (Fastest TT post I've ever written, maybe the funnest...)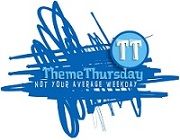 This post is part of a multi blogger collaboration. To read what kinds of things tickle other people's fancy or to share the things you love click the TT button.