Pet peeves, every one has them. I have a lot. Like I hate when people don't use their blinkers. People who cut in lines. People that are rude to servers/baristas/sales clerks. Parents at playgrounds on their phones, ignoring their misbehaving offspring. Today I'm going to focus on just one...
Lately I've been listening to The Grouch a lot, and he's got this one song
Artsy
, I fucking LOVE this song.
You ever run into someone that thinks they're the most cultured, most sophisticated, creative person? They're always doing the coolest thing with the most amazing you fill in the blank. They are not only the shit (according to themselves, and if they're good looking a couple of folks around them that can't wait to/are fucking them) but they also show they're better than everyone else by doing some annoying thing like being a vegan, a minimalist, only reading 18th century poetry or only watching IFC.
None of those things are annoying to me in and of themselves. I think it's cool to be an individual. What's annoying is when someone brags about their lifestyle like it's a requirement to be able to understand/appreciate/contribute to the art world in some way.
Slightly less annoying but more rampant are the douche bags that think they know art just because they follow whatever is trendy at the moment. There's nothing wrong with that either but don't present yourself as a lover of the arts if you don't know anything except what someone told you, you should like. Example wearing a bunch of OBEY and when someone says "oh you like Shepard Fairey" and their response is "who's that?". Or "I didn't know you where into graffiti" and their response is horror and denial.
There are all kinds of artist out there, and an infinite amount of mediums. Some create music, with their voices, a musical instrument, with some one else's music. Some paint. With paint, oh so many kinds of paints, on canvas, wood, buildings, sidewalks, paper. Some take pictures. Some sculpt. Some build things. Some use words, to tell a story, write a poem, a song, paint a picture...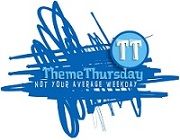 This post was part of a multi blog collaboration. That's all I had to say about pet peeves. If you feel like having your own little rant or you want to know what drives others ever closer to insanity click the TT button.