Valentine's Day
is just around the corner and that serves as a reminder that I'm playing with fire.
Let me explain...
Two years ago, over Valentine's Day weekend the hubby made me a delicious dinner. I drank lots of wine. We listened to a lot of LMFAO, did a lot of dancing and a lot of getting down. A couple of weeks later I realized that my period was late (thanks to my awesome ovulation app). So just to be safe I stopped drinking and headed to the doctors office.
I was really nervous. I wasn't ready to be pregnant. I wasn't ready to possibly be responsible for another life. I wasn't ready to be a good role model. Mostly I wasn't ready to push a watermelon through my vagina.
When the nurse came in the room my mind was racing with all the shit I wasn't prepared for, as she wrote my blood pressure down in my chart, on the counter facing the wall, she said to me, "Since your pregnant, the doctor will have to come talk to you and discuss your next doctors visit." and she walked out. My eyes filled with tears
from shear terror, just kidding I didn't know what being a mom was really like yet
of joy, it stunned me honestly, and I was filled with a peace that hasn't left me yet.
I called my hubby and I could hear him getting choked up with excitement and joy. I told him I'd call him right back because the doctor was coming back in the office.
That's what those first moments were like for me. Just over 38 weeks from that fateful Valentine's Day weekend, I became a mom. It's been a beautiful
life sucking
blessing.
Now here we are (almost) two years later. With a rambunctious toddler who never stops
seriously, he never stops
. Joining Weight Watchers to help me lose the baby weight that I have not lost
which is all of it but my son and the placenta
. Still trying to get back to running. Still trying to get back to sleeping 8 hours a night
Animal's doing it, but if I want any time to myself I have to get it while he sleeps
. Still learning to work the new family budget. Thinking of all this reminded me that I should be getting my period soon. So I was checked on my ovulation app. First thing I notice is that I'm already a day late according to it, but I'd never been what you call regular, so I *try* not to panic.
The next day joyfully, I start menstruating. Then I notice something. I will be most likely to conceive the weekend before Valentine's day. The time the hubby and I are most likely to be getting down. I didn't/have not resumed taking birth control after my son was born. It can mess with your milk supply and as
previously stated
that was very important to me. Now that my milk supply is not really important, I just feel done with the pill. So every month I do this dance.
The hubby and I are being super old school and using the (very Catholic) pull out/rhythm method combo.
Plus, I'm getting older. You can't be on birth control your whole life and since menopause is years away I decided tubule ligation is the way to go, for me. I wanted it done right after Animal was born, but my OB/GYN has a strict six month if it's your first rule. I should have done it last summer but I had a bad case of child induced zombie(hood) going. I couldn't get shit down.
So here I am, two year's later. Playing with fire. Maybe it's because
we're gluttons for pain
we love being parents. Or because we love Animal so much and we want another baby. We both have siblings and feel a little guilty of depriving him from having that wonderful experience. But we would feel more guilty not being able to provide for two children. It's not the day to day I'm worried about, hell we have got A LOT of baby gear. It's the extras like diapers, swim lessons, pal, tutoring, vacations, and the extras that aren't extra at all, like health insurance and a college education. It just wouldn't be fair to Animal, us or this imaginary baby the hubby and I (secretly) long for.
So happy Valentine's Day. Use protection.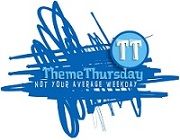 This post is a part of a multi blogger collaboration, to join in the fun and link up, or to keep the good times going just click the TT button.