There was little that was more awesome to me than summer vacation as a kid. I looked forward to that endless weekend all school year long. It wasn't because I hated school, I actually loved school, but nothing beat the freedom that came with summer vacation.
Summer vacation meant days I could spend anyway I wanted.
I could read, all day until the words started moving into each other and my eyelids became so heavy with sleep that I passed out. I could write uninterrupted. Pages and pages of stories. Never finishing any of them. But that was okay, because they were just for me. Playing in my backyard with my siblings, my cousins and sometimes the neighborhood kids. Days spent at the mall or at the local amusement park people watching. Days spent talking on the phone.
Camping trips. Swimming. Hiking. Hanging out with my folks. Bike rides. BBQs.
Nothing but good times. Happy memories.
I remember my junior year of high school thinking this is it. I'll never have a summer vacation like this again. Unless the hubby and I hit the lotto, I never will. I hope that Animal finds his summer vacations as free and relaxing as I did and that he remembers them just as fondly.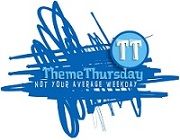 click here to check out or join in