This week our theme is to write an Acrostic poem. At first I was terrified I haven't written a poem since high school. Back when I thought I could write poetry, and did, often. Then when I Googled, I let out a big sigh of relief. I can do this. Without further ado...
Animal
Always on the go
Never stops
Impossible not to love
Mommy's little angel
And the apple of my eye
Lastly, he makes our family complete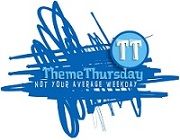 This super awesome poetry was brought to you by TT to keep the fun going or show off your own stylistics click the Theme Thursday button!