I love Superheroes! When I was a kid I watched all the Superman movies, Super Girl, and Batman. On t.v. I watched, The Incredible Hulk, Wonder Woman, The Bionic Man (does he count?), and all the cartoons, Spiderman, Batman, X-Men, Superman, The Tick, She-ra, He-Man, and The Teenage Mutant Turtles to name a few.
As a kid we spent days playing make believe Superhero games.
I can't wait for Animal to be old enough that we can play our own superhero games.
We would name ourselves and our powers. I loved controlling the weather. I'm not sure why, but when I got older and saw Storm, I was in love. As a teenager I collected cards and some comic books, so that I could spend hours copying the beautiful illustrations. I love to read, I love art, so of course I love graphic novels.
I was sure I knew my favorite Superhero. The Superest Superhero of course, is Superman.
I
Because, he's handsome. Strong. Humble. Just. Loyal. Kind, and his alter ego is funny in a corny way. Being as I am just not that funny I find that irresistibly charming.
The only Batman I could find to snap a picture of
One of the things the hubby and I have in common is our love of superheroes. Like me, it is deeply cemented into our childhood. Though the hubby's stems from Batman The Animated Series, and the comics he collected. We go and see virtually every superhero movie that comes out. Sometimes we love them, sometimes we don't.
The hubby has nostalgic love for Superman, but he doesn't agree with my adoration.
His favorite is Batman. Because, he's got the best story, he doesn't have super powers, and he's driven by vengeance. He's dark, has an alter ego and he can be killed. Superman is awesome because he's not human, Batman has had to work to be the bad ass he is.
It's a compelling argument, I have to admit.
The movie I'm waiting for is based on Kingdom Come. Have you read that one? It's a series that features Superman and Batman in their twilight years. If you're into comics, you should check it out.
Superheroes are awesome. They pull from real life. What we wish we could do. Our desire to be amazing and better than human. We love sharing this love with Animal, it'll be even more fun when he starts to know what we're talking about. For now I take it as a win that he loves his Spiderman gear...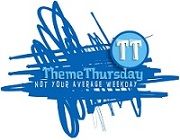 This post is part of a multi blogger collaboration, to join in the action or just enjoy the fun, click the Theme Thursday button!