Reality TV. I've been hooked since The Real World.
I wont watch just anything, though the hubby would disagree.
I wont watch any of the bachelor shows or any of the talent shows. Also none of the "celebrity" shows. No spin offs of Housewives. No Red necks, little people, sister wives, toddlers in tiaras, cop shows, security shows, no swans, no bidding on storage units, drunk girls fighting, jersey shore drunks or families with more than one digit number of children.
Now I know that knocks so many reality shows out. I wish I could say I didn't watch any, because frankly I'm embarrassed at the long list of shows I do watch. Not just watch, but love to watch. They are my guilty pleasures. I watch these shows, DVR them, watch marathons, I don't BUY tabloids but I do check out the stories if it has to do with one of the girls/couples on one of the shows I watch. I get involved emotionally. A few examples, I was honestly sad when Nick and Jessica got divorced. I Googled about Khloe and Lamar Odom divorce rumors, and yelled at the screen recently when Janelle told her lawyer she wanted to go to a Kesha concert instead of taking the 14 days of jail time her PO offered after she failed a drug test.
Here is a list with all the names I could remember, sadly there are more shows whose names I can't recall.
The Real World
Road Rules
Real World Road Rule Challenge (note I stopped watching all of these shows about 8 years ago)
Newlyweds
Survivor
The Real Housewives of Orange County
Hoarders
Hogan Knows Best
What Not To Wear
Intervention
Keeping Up With The Kardashians
Kourtney and Kim Take New York
Khloe and Lamar
16 and Pregnant
Clean House
Restaurant Impossible
Chopped
Cupcake Wars
LA Ink
Top Chef
Teen Mom
Teen Mom 2
Wife Swap (only first season)
American Chopper
Monster House
Monster Garage
Nanny 911
Super Nanny
Average Joe
The Biggest Looser
Flavor of Love ( I know both a dating show and celebrity)
The Osbournes
So there you have it. Reality TV, I hate to love it. Especially Teen Mom, The Real Housewives of the OC and all things Kardashian. When ever the hubby catches me watching them he says "my respect for your judgement just dropped from here to here" signaling from over his head to as low as his hand will go without bending over.
I don't usually discuss openly my love of these shows. Except Teen Mom and Teen Mom 2, I talk about those often. Especially in my posts. I love that show so much that I want to do a weekly post after the show airs Monday night.
But I don't want to trash any of the girls because they are SO young. What if I was a baby myself when I became a mom? What stupid things would I do? What dumb ex would be my baby daddy? What drama would my little one have to endure? I also don't want to forgive all the dumb shit they do just because they are young. My best friend was 19 when her daughter was born. Life was so hard for them. My bestie had to drop out of college, after she worked so hard to get there. She had to work, raise her daughter on her own and go to school to reach her dream of being a nurse. Even though she was young, and it was hard, she did it. Her daughter is a wonderful young lady and she was an amazing role model.
What's my point? These girls can do it too. I'm rooting for them.
The housewives of the OC are a train wreck and I love to watch. It seems the other "ladies" are bigger train wrecks at least according to the soup, but I refuse to watch any more housewives.
And the Kardashians? I know it's lame, but at least they are hard working women. All the women in that family are smart and hard working. Plus crazy and explosive. It's just fun to watch.
I can't believe I shared my ridiculous love of these ridiculous shows. But there you have it folks, judge away if you can stay away from this grovel. Judging from the amount and variety of "Reality" TV, I feel safe believing you wont be judging me.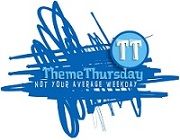 I'm sure you have a bevy of personal favorites, to hear what others love, hate or love to hate click on the THEME THURSDAY button.