I swore shortly after I started this blog that I would NOT make it about weight.
OKAY. OKAY. I have mentioned my post baby fat ass several times. But I haven't lingered on all the negative self talk
right?
or the utter dismay I feel every morning when I get dressed.
I have battled with my weight ever since I hit puberty. Finally conquering my fat ass and body issues about 5 years ago. Sometime before I turned 30 I got down to business and got seriously fit. I ran a half marathon, had killer biceps and wasn't just a "skinny bitch", but a healthy fit bitch! I worked out 1.5-2 hrs a day 6 days a week and I was super happy. I was so proud of myself and worked hard on focusing on becoming a strong woman instead of worrying about a number on the scale, the little number on the scale was just a happy byproduct of my hard work. That and Weight Watchers did wonders for me.
Even before Animal was a twinkle in my eye I fretted and worried about what would happen to my body after having a baby. During my pregnancy I didn't let my craziness mess with me... too much. I worked out all the way to the end but as I got further along I scaled it down accordingly.
After Animal was born I was so tiered and really down on myself for not being able to be one of those moms that's running a half marathon two months after they pop their babies out.
How do these bitches do it? And why can't I be one of these cunts. Sorry it's just my bitterness talking.
But I just couldn't. Motherhood is the best thing that has ever happened to me, but it is kicking my ass. And it's taking my body, energy and drive for a ride.
Animal is sleeping through the night and I have new running and fitness goals, plus new motivation. I want my son to have an active role model. I want to give him the opportunity to join me and have fitness be a part of his life. Cycling, walking/hiking, swimming none of those things ever feel like exercise to me, because we did those things regularly with my parents (I still do, my dad is my running partner) and that makes it so much easier to be active, I want Animal to have that. Even though I love to sit, drink and eat garbage, I don't want that to be how Animal remembers mommy.
My very good friend Nursing Student and I decided that it's time to get back to Weight Watchers. This Year coming up is the year I get myself and my body back. In a healthy way.
I fucking LOVE weight watchers, I could literally go on and on about it's virtues, but I wont as I'm trying to gain readers not lose them.
Don't worry I'm not going to start posting weekly updates, or my daily food journals. Maybe if you all are interested I'll do monthly updates. Most likely I'll wait till I make it to my first 10 lbs dropped, the halfway mark and when I hit lifetime again.
New year, New me!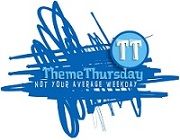 This post is part of the SUPER AWESOME Theme Thursday collaboration, to read what other blogs have planned for the new year or to link your own (cuz I know you totally want to) hit the TT button