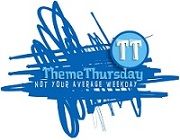 click here to see more
Collections. Do I collect?
Yeah, I'm a pack rat. It's terrible. Worse still, I'm married to another pack rat. Wait there's more, he thinks that he isn't a pack rat, and that I'm the only one that holds on to everything. So you can imagine what my home is like. On the plus side, we're not Clean House crazy.
Here's a short list of things I collect or have collected (and therefore still have in a box somewhere).
Mickey Mouse paraphernalia, I have silverware, a toaster, a waffle iron, cake pans, jello molds, bedding, coffee mugs, stamps, stationary, phones, stickers, books, vinyl toys, I'll just stop now. I'm embarrassing myself.
Movies. We love movies. We own lots.
Vinyl toys. I wish I had lots more.
Scrap booking/card making supplies. I own so much scrap booking and rubber stamp paraphernalia that I have several storage containers for it. Not one, two or even three. Several. How often do I scrapbook? Since I got pregnant. 1 night for 3 hrs. So, that was money well spent. Oh and how often do I make cards? I've made like 30 thank you notes, 20 invitations, and 10 random cute cards and 30 almost finished Christmas cards. All in just 15 years. It only cost me about $600, so totally worth it.
I also went through a jewelry making phase. So I have tools, cases of beads and natural stones, wires, clasps, and toggles.
I love belt buckles. I have a nice little collection of them. My favorite doubles as a flask.
I collect clutter. There I said it. Also hobbies. I'm a collector, but I'm trying not to be.