Halloween. It's a special time of the year.
It's a time when we can enjoy all things spooky, and kick off the holiday season. There are ghosts and goblins and silly scares and heart stopping terror if you're lucky. B movie horror and haunted houses abound. Fun costumes and candy, really what's not to like?
Halloween was it's best as a child, but can still be incredibly fun as an adult. Now that I have a son, I get to do it all over again. Only even better. Is that crazy of me? Don't answer me.
There's one thing I hate though...
It's fucking Christmas being shoved down my throat two months too early. WTF!?! I love Christmas and all, but I don't want all that loving man kind shit, when I want to possibly find a hot french maid outfit to give the hubby a treat in.
I know this topic has been done to death over the last few years as many of you feel this way, but this has been an especially tough month for me and I don't have much in the way of creativity.
I've been sidelined from running, and when I can't run, I'm just lacking. Lacking in energy, creativity, and the right chemical balance in my brain. So this is all I could muster about Halloween this year, but it's not any less true.
Now for the a sad and happy farewell.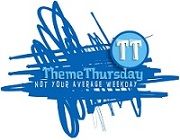 This is the last Theme Thursday. I'm a little sad to say goodbye, as it has afforded me so much support, good times and a wonderful creative outlet. I'm also ready to say goodbye. Jenn its creator, has become a contributor on In The Powder Room, and is working her butt off to make her writing goals come to pass. Starr is also kicking ass and taking names as a paid writer. Lori has been featured on Scary Mommy and continues to grow as a writer. I've been lagging behind, but I have gotten published twice in the last year. I'm ready to try to step it up, learn some shit and make my page look (and be) professional. I love to write, and I would like to perfect my love into a craft.
Most importantly, TT has given me support and friends. When I first became a mom I felt very isolated. I was so in love with my family, but felt so lost and like such a failure in most areas and a small success in other areas. I needed a community where I could freely say, my son's a cockblocker. I can't sleep. I'm celebrating my sons first birthday with moderate drinking, after forced sobriety, as well as how I planned to make up for that 20 months. I can't add a link for that because I write a lot about drinking. Theme Thursday meant a commitment and I needed that.
Thank you to Jenn, who not only came up with this awesome idea, but for welcoming me. I had no blog, and she gave me tips, encouragement and friendship. Thank you Jenn, Starr, Lori and all the great bloggers who have participated, read, and or shared anything I've ever written. Now because of all of you, I have a place where I can put my thoughts, my worries, my truimphs, failers and joys. I am forever grateful and can't wait to share more.
To read my first post, which I posted too soon and so it was not officially a Theme Thursday post, click here