This week is another interesting Theme.
Two truths and a lie.
This could be fun, or serious. It could be an essay or a short story. It's really a meaty topic, and I'm excited to read everyone else's post.
A Phony
.
I feel like a phony a lot. Like I'm living someone else's life. Someone who is just a sheep. Someone who doesn't think for themselves. I do all these things that I never thought I would do.
I'm such a consumer. Such a conformist. It's so easy to be one. I didn't mind so much before. Before I became a parent, but now that I'm responsible for another being it's hard not to be disgusted with the person I am; If I look to closely at myself. I guess I don't mind being a hypocrite if it's just me. I'll even call myself out. To be one when someone so impressionable is looking at me as a model for how to be a human. It kind of kills me.
Lazy Bones.
I can be so lazy. It takes a lot of thought and cajoling for me to get shit done. Cleaning. School. Running. Cooking. Even writing. Sometimes I'm just kind of on auto pilot and not much gets done. It's not because I'm depressed. It's just because I'm lazy.
Confident.
Looking from the outside in. You might think I'm confident. I'm friendly, and I smile a lot. I talk like I have a clue. Mostly because I do, but having a clue and actually being...anything, well that's completely different. I'm actually worried and scared more often than I let on. I worry, because I do have a clue. I know what I should be doing or what the score is in this world we live in. I may appear to have the confidence in myself to get things done, and let's be honest sometimes I do get things done. The truth is that, that is a lie and a lot is left to be done. Conquered. Changed. Moved past. Solved. Taken care of.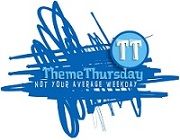 This post is part of a multi blogger collaboration, to read more, or join in, click the TT button