I was really excited when this Theme was announced.
I love me some Geeks. A lot of different types. I appreciate tech geeks (like the hubby for all the MacGyver stuff he can do) and can get into some nerdy ass shit like watching AOTS, granted it went from geek fest to sophomoric...
I'm a Star Trek fan (original and next generation), but no Trekkie. I can appreciate their devotion. I find it endearing.
Here's where I may lose your respect. I'm not a Star Wars fanatic, or fan for that matter. The hubby on the other hand can definitely immerse himself in the movies, toys, and culture. I can appreciate it's storyline and it's depth. I love the look. The toys and costumes are awesome. It's just not for me. My husband about died when I said I like Star Trek more. I think a little bit of his soul dies every time he gets a glimpse of my Star Wars indifference.
I love graphic novels. I enjoy reading them. I'm drawn to the art work. I enjoy collecting them. If I could afford it I would own A LOT of toys. To play with and to keep in mint condition. Fuck, since I'm being honest I'll fess up now, I would hunt the toys down. Also, we're totally taking Animal to Comic Con.
I'm a film connoisseur. I love so many genres. I spend a lot of time watching and thinking about movies. I love to plan dinner parties around them. I love to dissect them and discuss them at great length.
Reading and books are like a drugs to me. Books are my friend. I could literally spend whole days in a library or bookstore. I read every little thing I can. When I'm curious about something I start reading. Books, articles, what ever I can get my hands on until I feel sufficiently knowledgeable.
I turn words over and over in my head. I write down sentences randomly, everywhere. If I can't hear the words in a piece of music I am unlikely to love it or remember it. If however the words touch my heart, it doesn't matter the genre, or when it was written, I'll be a fan.
When I love a speech, monologue or sermon, I'll transcribe it and post it somewhere in my home. When Animal was only a few months old and could not hold still for a book (a fucking simple board book) I would fight back tears and swallow the lump in my throat. Refusing to acknowledge the thought that my son would not love books like I do. One of the happiest moments of motherhood for me was when Animal not only listened to a whole book, but then asked me to read it again, and then catching him sitting with a pile of books around him looking at the pictures of one and then another book.
Thinking about all of these things, trying to zero in on what I would write about today and after reading the definition of Geek.
Check out #3
Made me realize there is a case to be made (at least for me) that a geek is just another word for hipster. Way back in the 90's, when people didn't use the word hipster. I was still the big geek I am today. I didn't try to hide it. In fact I embraced it. I hated the idea of being "normal", of being ordinary, of being boring. So I started honing in my likes and on the things I thought it ironic to like and really started learning some shit about those things.
I guess others did too. There are so many channels and shows devoted to all the things people like to geek out about. I love it. I hope Animal will love it. We fill his spaces with normal kid fare, but also with Domo (our favorite Japanese character), collectible vinyl toys, art work, super heroes and monsters...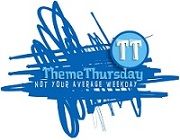 Are you dying to share what you think of Geek Culture? Well Theme Thursday is a multi blogger collaboration, so click the link and hook up. Or if you just want to pass the time reading a couple of fun pieces on the topic. Click the link.