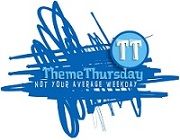 Click here to join in or read more



I haven't been writing much these days. I'm on vacation from work. After finishing the 100 mile challenge Monday, I'm even on vacation from running. Which is making me really sad, but after running nearly everyday for a month. I know it's the right choice. Usually I pack this week with visits to and from friends I don't see enough and errands and housework...I never finish it all.
This year, I planned something different. I planned to be a stay at home mom for the week. I thought I might write about my experiences this week with a small taste of SAHM life versus my "normal" week.
It's half over, and I just don't feel like doing it.
For one, just this week I've seen several teasers on FB and Twitter on the subject. Second, I was gonna try and be funny about it and last, I don't get it.
I don't understand the versus here. I don't understand why no matter what you do as a Mommy, there are always other mommies ready to tear you down.
I enjoy working, I honestly do, but I also HAVE to. It's not a choice at all. We couldn't afford to pay rent AND eat without my salary. Some would argue that what I spend in childcare (because it is so expensive) could "make up" some portion of our household budget. Plus if I was truly awesome I could stretch those dollars the hubby brings home into healthy meals, and cut back on all the lavish extras we afford ourselves now. Therefore allowing me to raise my own child.
If only it were that simple.
I don't pay anything for childcare. Not now and not when my son starts preschool (it's one of the many benefits that come with my job). I also receive medical insurance (a pretty good plan), a little more than 6 weeks of paid time off a year, plus every weekend. Always. There are other benefits, both tangible and intangible.
Like everyday, weather permitting (and in the Bay Area it almost always is) I get to walk. All alone, with my thoughts for 15 minutes in the am and in the pm. If I don't have any errands to run I get another hour to do the same. To gather my thoughts, for a post, to solve a problem, or to be grateful for my life. Sure, If I could choose I would spend the time with my son, but maybe for my sanity's sake, it's better that it's not a choice.
Let's get back on topic. This week has been amazing. Just me and Animal all day. He's so happy and so am I. We run errands together. He plays while I clean, and sometimes is right behind me trying to do what I'm doing, or for a better view. He's napped in his own bed all week. I get to make his meals from scratch, one at a time, instead of packing them all in the morning and then wondering all day how/what he ate. We go to the park, playground or some other adventure together. I get all the hugs and kisses all day long. It's been a truly fabulous week. I hate the idea of going back to work. Back to reality. So maybe some of the SAHM's can have a little sympathy instead of judgement. Maybe they can try to understand that I don't want to be away from my little guy all day, every weekday.
Now for my part. Maybe I can or we the working moms and dads (let's not forget them), can understand it's not all sunshine and rainbows. Everyday I clean, and Animal destroys. Almost immediately, I mean you can tell some cleaning happened (for instance the thick layer of dust is gone) but I worked really hard for at least half the day on that cleaning and you can hardly tell. I am way more tiered. Way more tiered. All around.
Physically from the cleaning, the lifting of a 30 pound toddler who's body goes limp every time he doesn't want to go the way I'm going, which happens at least 6 times a day. Oh and also every time he's "tiered" of walking, which happens another 6 times a day. Funny how walking can tire a toddler out in just a few minutes, but climbing can go on all day.
Mentally, from the tantrums. The not listening, at just the right moment, so strangers can judge my parenting skills. The lack of adult interaction. The lack of exercise. I knew I had to lay low on the running this week, and I'm getting to walk, but I was all set to do some weight training this week. Uh, not happening. I gave up yesterday. Also my eating habits have really sucked this week. I'm eating what ever leftovers I can shove in my mouth, or snacks are handy at nap time. The only real meal I get is at dinner when the hubby is home. I'm starving by then so my plate looks as big as his.
So maybe we can reserve our judgements about the children's behavior. The make up, hair and clothes or lack there of...(I totally thought I was gonna be wearing make up all week long and that my hair was gonna look awesome). The cleanliness of the home. How from scratch the meals are...
Mommy VS. Mommy, is one versus that just doesn't need to be and serves no one. Let's ditch this bitch and get on with the business of lending each other a hand and a sympathetic smile. In the end, we have a lot more in common than we don't.