Goal -noun
1. the result or achievement toward which effort is directed; aim; end.
We all have goals. Some that we share, others we keep close to our chest. This month, in the coming months and in the next year I have somethings I'll be working on.
Peach Protein Pancakes
1. Cook more. Eat clean. I've been working on this one for years. I have a feeling that it will be a life long pursuit. Unless I won the lottery tonight. Then, I may be buying expensive stuff from the deli at Whole Foods. Something I rarely do because it cost the same as going out to dinner, except I still have to do dishes.
I was selling tickets to a gun show
2. I sprained my foot. So my mission to be a ripped bitch has been side lined. No running for 6 weeks. Have I mentioned I love to drink? The only time I take a drinking hiatus is when I'm training. I love dessert. I love cheesy things. I love pumpkin things. (We're just about to kick off the eating lots of delicious things season) I need to workout. I need to kick it up about 10 notches and I needed it a year ago. Now the goal is to not gain any of the weight I've worked so hard to loose this year. Then I wanna see this girl again...
3. Write more. Write for money. So that one, I can call myself a writer and answer the questions such a statement brings up. Two, I can add money to Animal's college fund. What ever I can add the better of we'll all be.
Write about the things I love. Being a mom. Fitness. Health. My family. Drinking, and eating.
Here's a nice little graphic of some good times

4. Finish school. I've enrolled in school, met with a counselor and it turns out that it's completely possible to graduate with a part time schedule by the time Animal graduates from preschool. Right now, that is exactly what I need.
5. Be the best mom, wife and me I can be.
Sometimes I'll fall way short. As long as I'm trying. As long as my efforts, aim and the end is insight. I'll be proud of myself. Chances are I'll be getting closer to my goals, if I just keep trying. One tiny step at a time...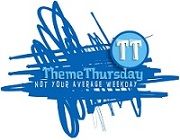 This post is part of a multi blogger collaboration to join in or just read clicl the TT button!